​The 14th China (Guangzhou) International Auto Accessories and Modification Exhibition
2017-12-28
---
The 14th China (Guangzhou) International Auto Accessories and Modification Expo in 2016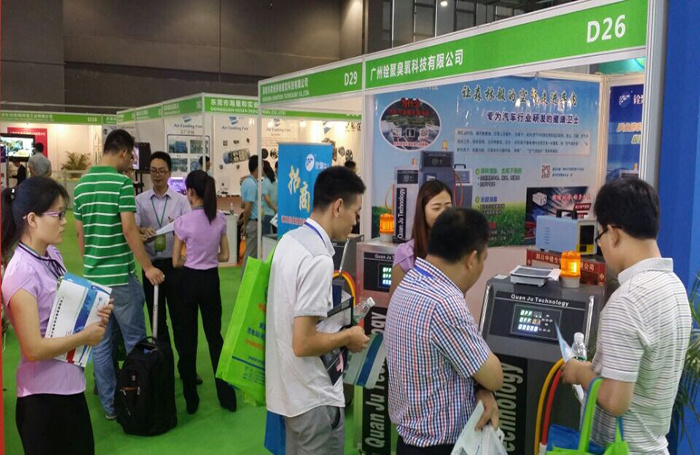 Guangzhou Quanju Ozone Technology Co., Ltd. participated the 14th China (Guangzhou) International Auto Accessories and Auto Modification Exhibition in in June 10, 2016, Booth No.: D26 (Guangzhou Pazhou Poly World Trade Center).
According to statistics, as of the end of June 2009, the national motor vehicle drivers are about 335 million, Now the interior of the car contains many different materials, such as plastic, rubber, leather and contains a lot of chemicals, so that the pollution of the air inside the car is more and more serious .
Studies have pointed out that the harmful gas release in the car will be increased with increasing temperature. As the temperature increases by 10 ° C, the concentration of pollutants increases by almost double. And ordinary disinfection, can not completely kill the bacteria, dead ends, and the car could be removed the smell couldn't be clean up, so some of people only use other scents to cover up, so people need the ozone disinfection in the car, and we should pay high attention , ozone disinfection with no dead corner so that the most of people like to do the ozone disinfection, so what is the principle of car disinfection machine?
Using ozone and negative ion disinfection, ozone is mainly on the vehicle sterilization, negative ions are mainly purify the car air, can kill and eliminate odor, smoke, sweat, smell, fiber, floating Mold, virus, phytoplankton, mite, pollen, dust, dander, benzene, toluene, xylene, total volatile organic (TVOC), formaldehyde, carbon monoxide, carbon dioxide and nitrogen oxides in automobile exhaust.
And on the sterilization time, the rapid incomparable is 3000 times than the UV. Ozone can also remove the toxic gases such as CO, NO, SO2, mustard gas and so on through the oxidation reaction.
The main functions of the car disinfection machine are as follows:
1. purify the air inside the car, eliminate smell, new decoration stink, musty. 1, purify the air inside the car, eliminate smelly, formaldehyde in the new car, musty.
2. rich anion can remove the smoke, make our spirit of pleasure, can eliminate the fatigue if driving for a long time.
3. decomposition of benzene and carbon dioxide and other toxic gases.
4. to eliminate poor ventilation, moisture, food debris and other odor.
5. Can eliminate the cold virus and tuberculosis and other infectious virus.
More and more people choose this car air purifier to use for their cars